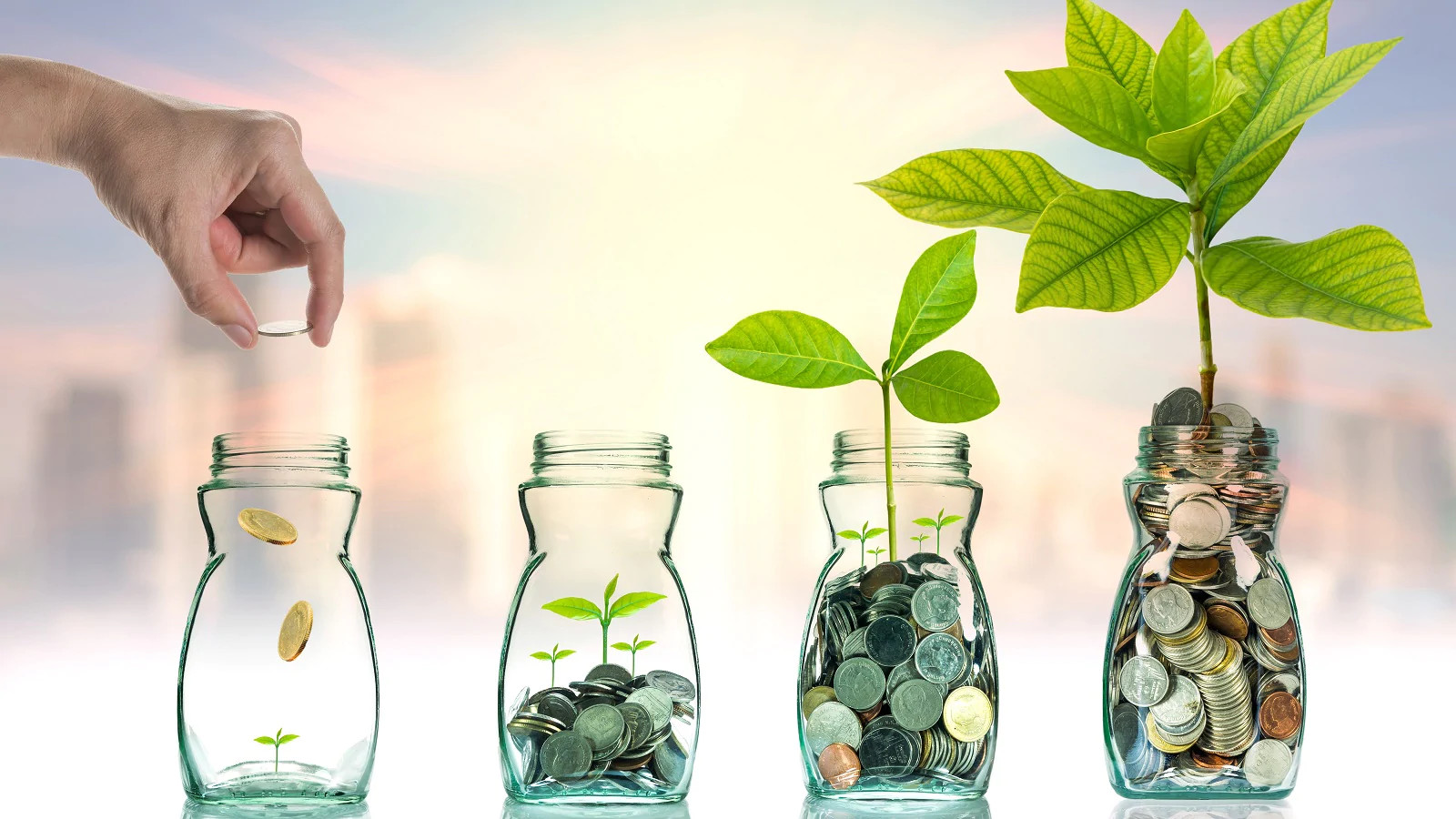 I am very, very happy that I started speaking to Family Offices and regret that the Pandemic forced a reschedule of one event and kept me from attending another this week. But I am grateful to be allowed attending the first Family Office virtual conferences. It's a rather steep learning curve. I am grateful for any event reference or invitation that I got and hopefully will still get.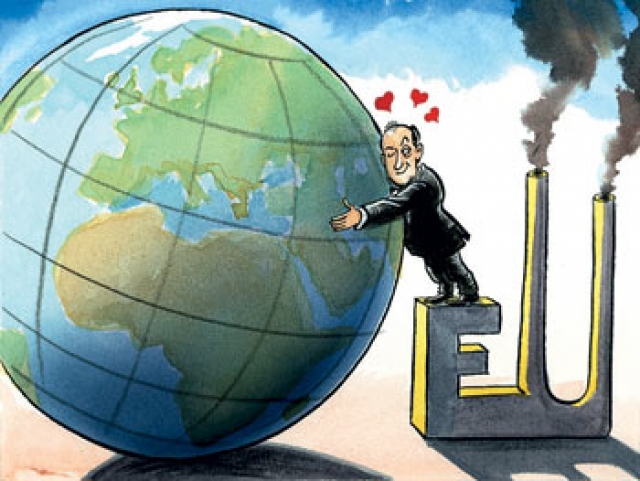 Given today's jabbering by the EU Commission (Mme. von der Leyen) that they – wow – will reduce the CO2 to 55% of the 1990-level … Oh wow? Shall I be impressed? Or cry? EU parliament would have been okay with 60% the news say. But even as is, this "deal" is full of small-print and not really worth the paper it's written on.
We must be better to make an impact. And we better stop lip-services, white- and greenwashing but address the issues we can address today. Or this expert saying we're way too late is right.
Though this is totally in line with my initial experience about "impact investing". Lots of talk and lip services, with little substance too. Hard to find the ones that believe that this is something real.
And what industry is more in desperate need for a sustainability makeover. And having the chance for it?
Aviation Impact Investment
… a Barrel Burst?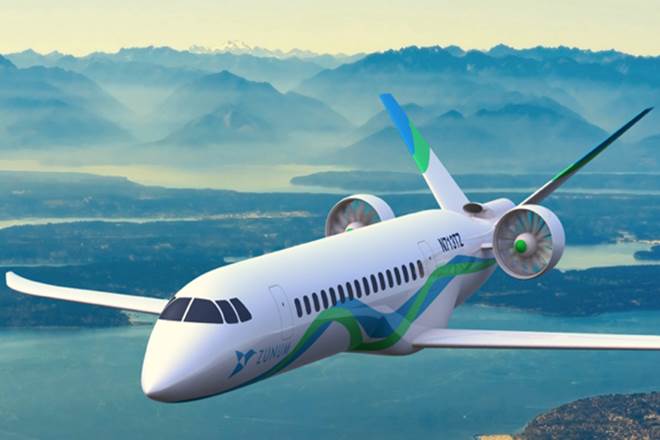 While we have clear plans to become Carbon-Neutral in realistically in three to five years, you got to start. And an "impact investor" told me this week that we are too little innovative. Really?
The EU plans give airlines 15 more years to fly dirty. Yes, that is a barrel burst! You got to be kidding me. But sure, it's completely in line with German and European aviation lobbying, managed well by Lufthansa, Ryanair and the likes. Lufthansa, the airline with the single-largest bailout package in Europe but with virtually no ties attached, especially none about job saving or evolution into turning "green" and flying clean(er). And in Hamburg I heard the synkerosene pilot suffered from disinterest by Lufthansa, aside of a single carbon-neutral flight by Lufthansa Cargo. A nice example of greenwashing!
I've summarized the possibilities to turn aviation carbon-neutral for a start (and what comes then) into another article Clean Aviation Whitewashing and the Real Deal, which I publish simultaneously with this article. But the Future of Clean Aviation is Now. It just needs someone with a real interest to start the process. No talking, no lip-services, no whitewashing, but the real deal! With a real ROI.
Impact Investment in IT & AI … What Impact?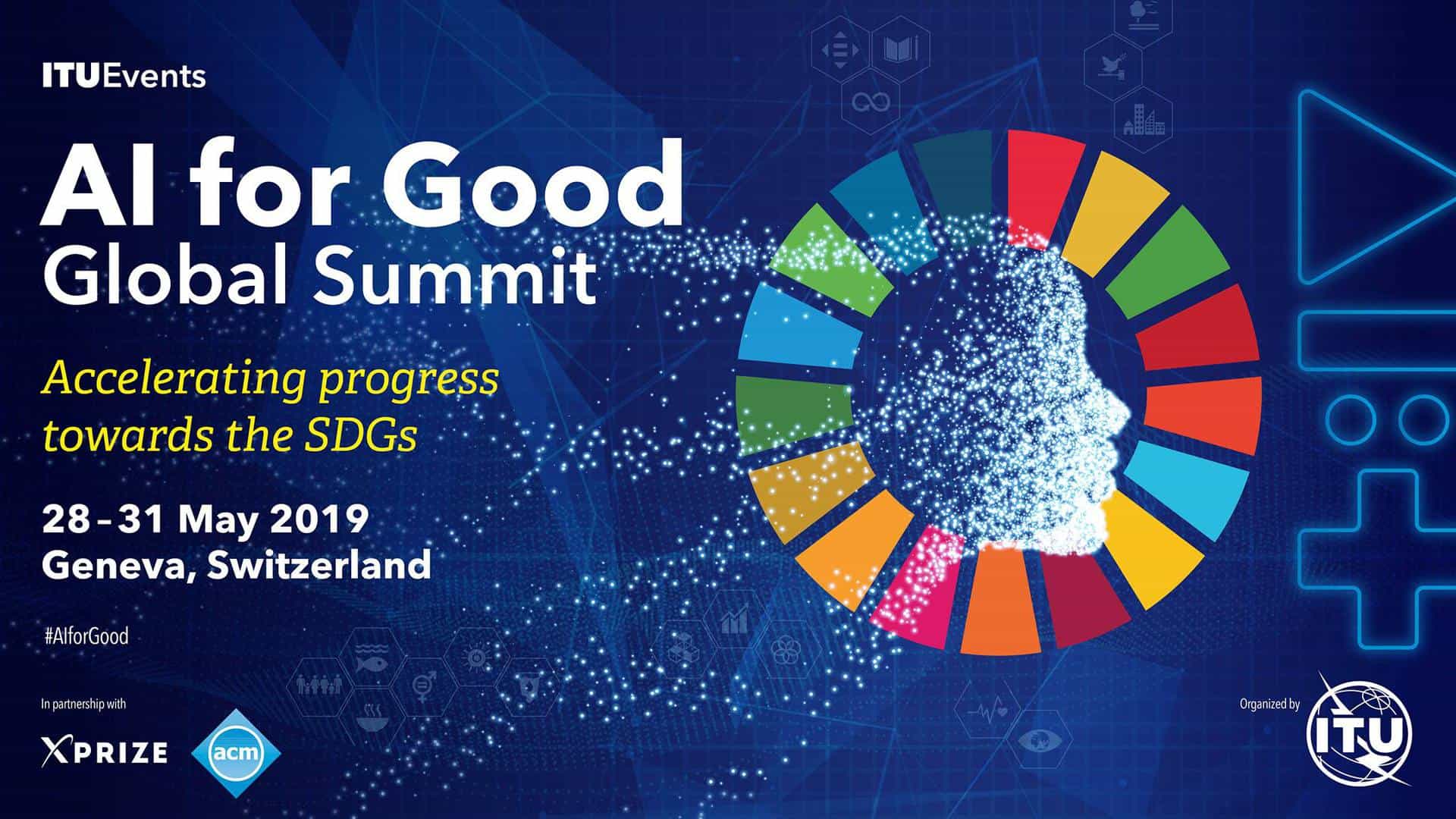 There is a lot of buzz ongoing about Impact Investment in IT and AI. Whereas I just wrote about Big Data & AI, feedback from family offices principals recently confirm my assumption. Of one emphasizing that ESG "tools" are usually a means to white- and greenwash family offices' IT investments. And as I posted that on LinkedIn, got a lot of feedback from other family office principals that IT hardly makes a real impact by itself. It's simply a profit-focused investment, mostly just improving existing processes or digitalizing them.
There also was a discussion this week about "decision making AI" or "decision support IT". From my aviation background, I see IT as an important support tool. One that improves productivity, but more important safety. I do not see an IA-tool taking more than a supportive role at the time being. But I see a lot of claims that direction, which I can only consider white- and greenwashing.
It's a Trust Thing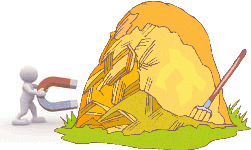 In my opinion, there is no "impact investing" if you don't find the right managers with a mindset to leave the beaten path and find profitable developments in the industry. For KOLIBRI.aero we don't just think about carbon-neutral aviation. Or some solar parks. We think beyond! We understand it's our duty to make an impact. Investing into our people and the regions we serve. To foster gender equality, diversity and to develop a future beyond our own. In turn, KOLIBRI.aero addresses not two or three, but all 17 of the U.N. Sustainability Development Goals.
In the overall plans, there is one issue being in the U.N. SDGs and EU's TEN-T, regional connectivity at affordable price. Going carbon-neutral is more important on that in our opinion, but there are obstacles that must be overcome, that is a journey. Decently paid, qualified jobs and ongoing, structured training to fight against poverty. Ideas aplenty on how to establish a disruptive airline, that shows how sustainable aviation can be. If you look outside the box. If you embrace "sustainability", even the notoriously loss-making scapegoat aviation can change.
The Quick and Dirty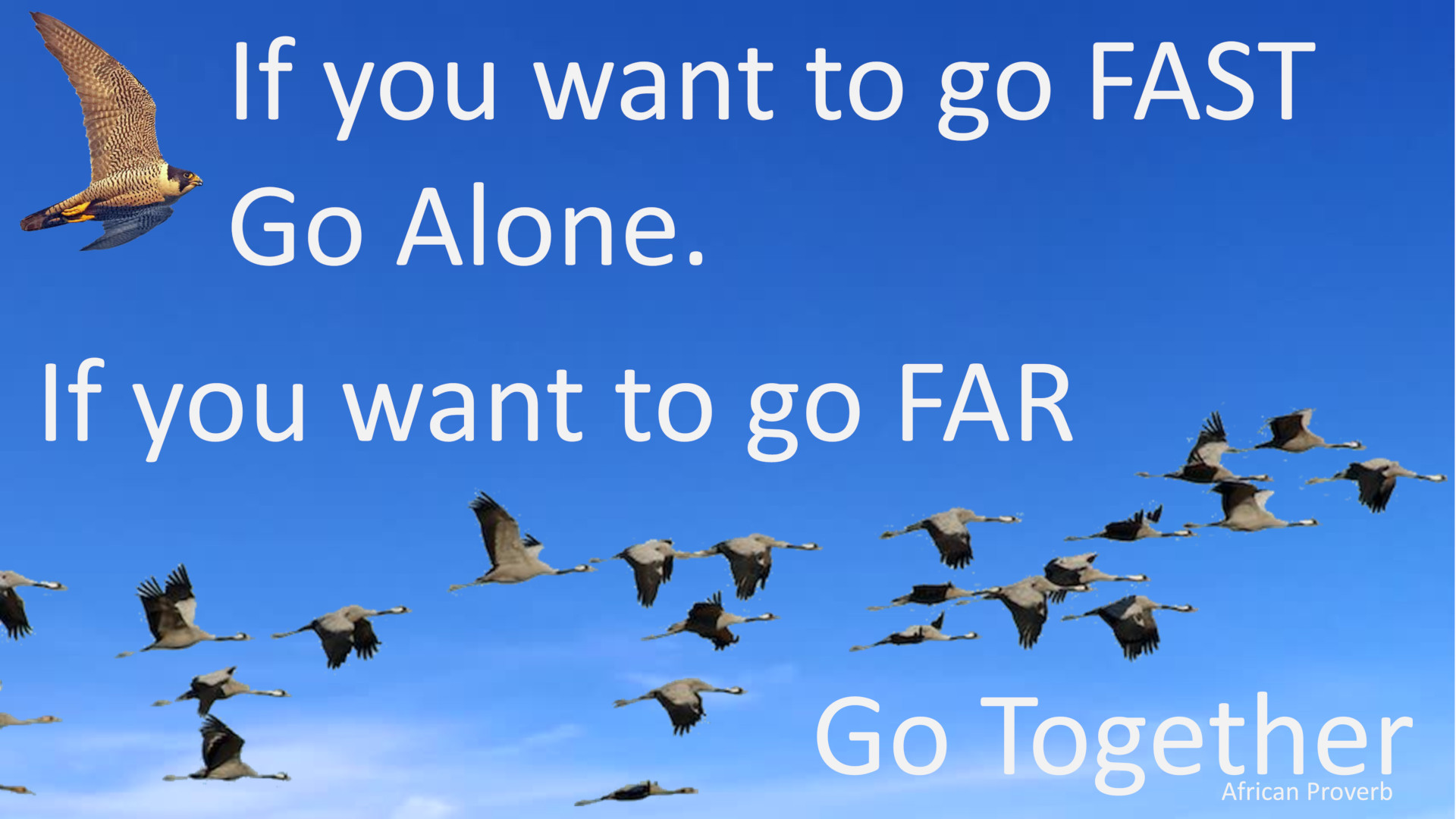 On the other side – and back to the topic of my previous article, Big Data and AI provide quick success stories. So much easier to use those for white- and greenwashing. But real impact investment may not be so sexy, it may take a longer breath. To turn around our world is a journey, no sprint. It's why even UBS recently confirmed in a webinar that family offices are more likely the ones truly investing into impact. Because they think long-term. About family impact across generations. Not as politicos or banks or "institutional investors" and venture capitalists in quick, maximized returns, happily overlooking the negative impacts for an improved profitability.
… or The Neverending Story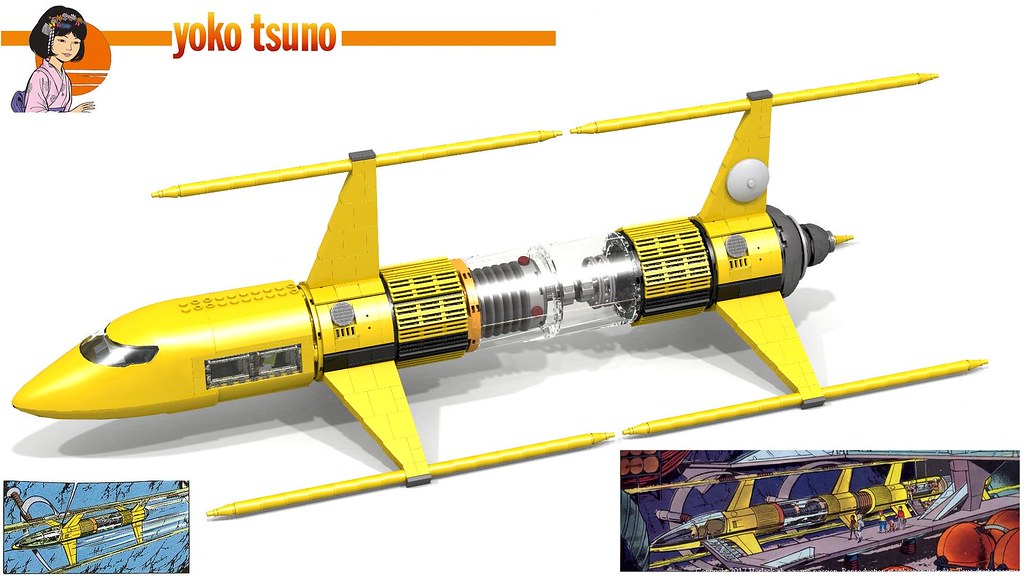 A German investor this week told me: "There is too little change in what you're doing." That investor referred to either air taxi or hyperloop. Whereas I've often enough expressed my concerns about air traffic control taking individual mobility into the third dimension and into potential conflict with commercial (and military) aviation. Just thinking about the increasing drone-warnings disrupting airport operations the past year. That is a very long way to go.
The same for hyperloop, which may connect high-density routes, similar to (German) Transrapid in China. Will this be more successful? The concept is around for more than half a century. And I don't like the pipes over ground, even Roger Leloup planned them underground. I've written more than a year ago in the #flygskam Reality Check about it and about the so much smaller footprint an airport has.
… Academic Thinking – Research Forever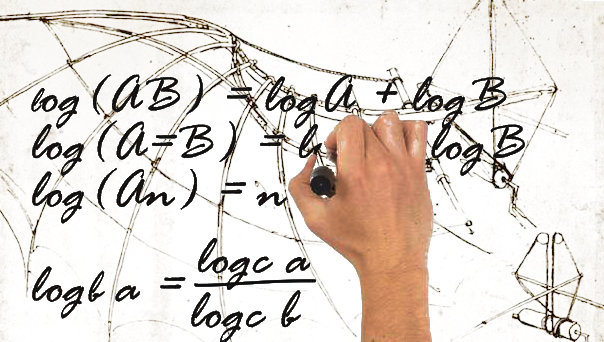 Global CO2 emissions dropped by 7%, with 11% in Europe due to Corona. Especially aviation reduced due to the lockdown by 22% global, some regions by 30%. But those are expected to come back quickly (Source).
Now the EU says it turns the European Investment Bank into a Climate Bank. And they will focus on research. Or to give the dinosaurs a facelift. Maybe it makes more sense to look for ideas to apply the research results to the real world? Why is it that German Transrapid only runs in China, European Skype is now U.S. Microsoft, the first industrial Synkerosene-facility is being build in Norway (EU associated)? Examples aplenty. We research but we're utterly incompetent turning research into practical products.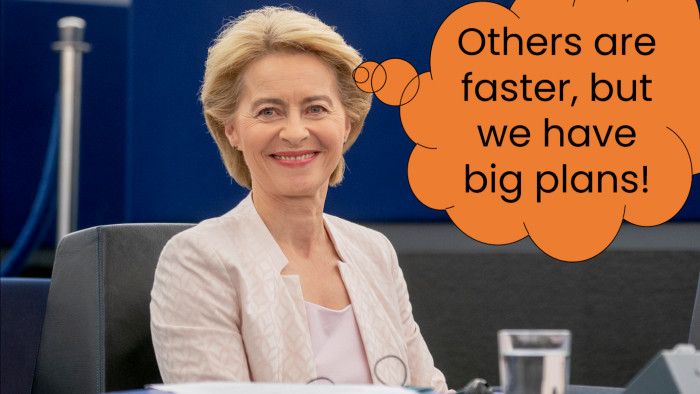 People should take rail the politicos wrote. Yeah, I can see Merkel spending a day to travel from Berlin to Brussels. An interesting LinkedIn post, and German Tagesschau reports "Strategy falls short of what is possible and necessary". A carbon-neutral aviation we plan on existing technological solutions for 2025, latest 2027 for Kolibri and by 2030 operating +200 aircraft carbon-neutral.
It's embarrassing! Why does everyone find reasons not to invest in large-scale change? No, it is not quick, requires industrial site funding, but it's about real change! Which in turn would apply pressure on the "establishment" to get their butts up and move. Get out of your comfort zone and make a change.
Divesting the Bad, Investing in Sustainability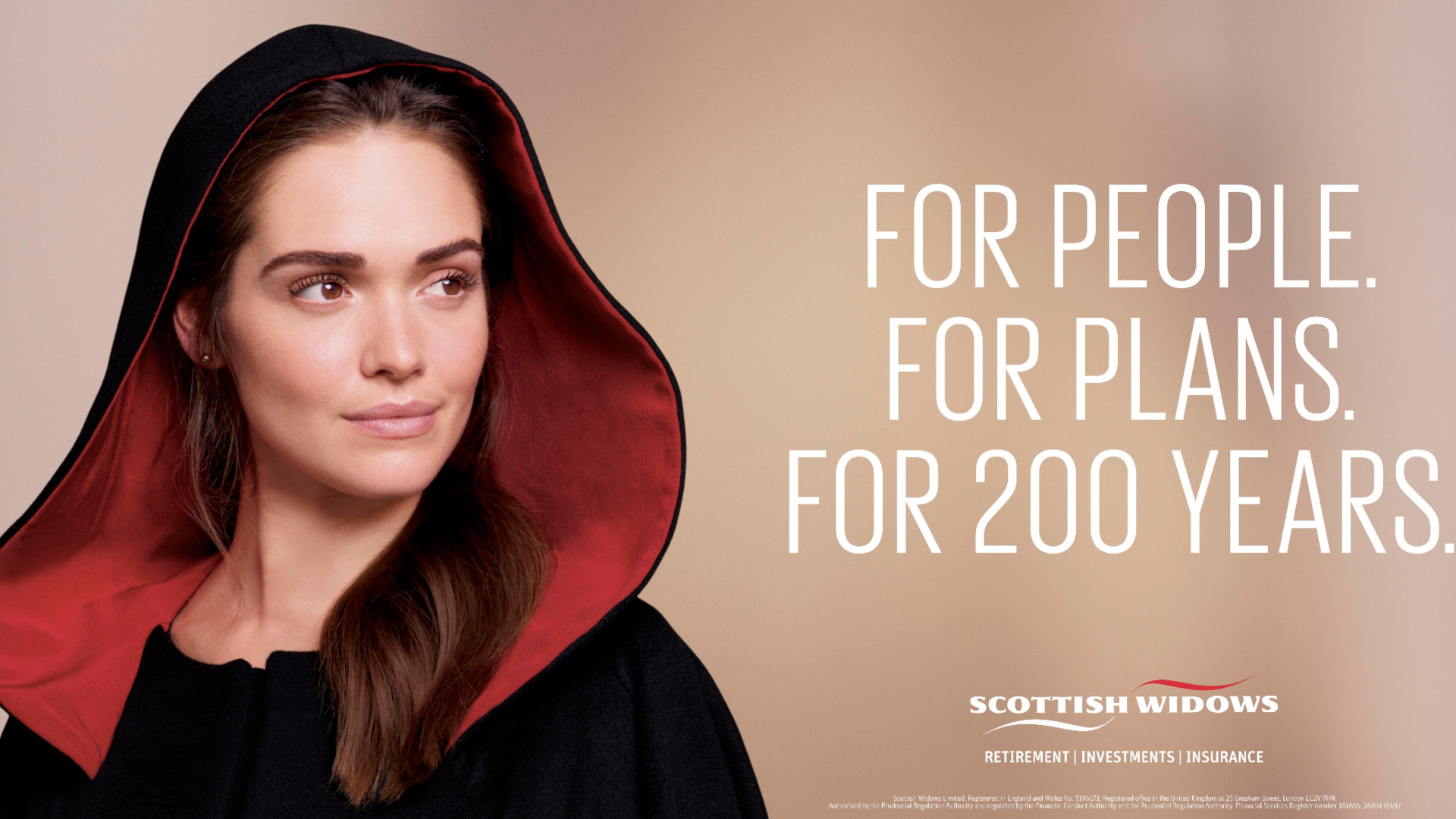 There are exceptionally good examples recently, like Scottish Widows devesting "bad stocks" in the value of almost half a million Euro. Whoops?
And whoops again. But they work with Black Rock, a company with a very bad reputation, funding most of the dirty stocks in the world. But on the other side, Black Rock may have started their journey to change? Maybe the money divested may be well invested into those change makers?
Corona is a testing time for about everybody. But also an opportunity for new methods and thinking to rise.
Impact Investment for better ROI!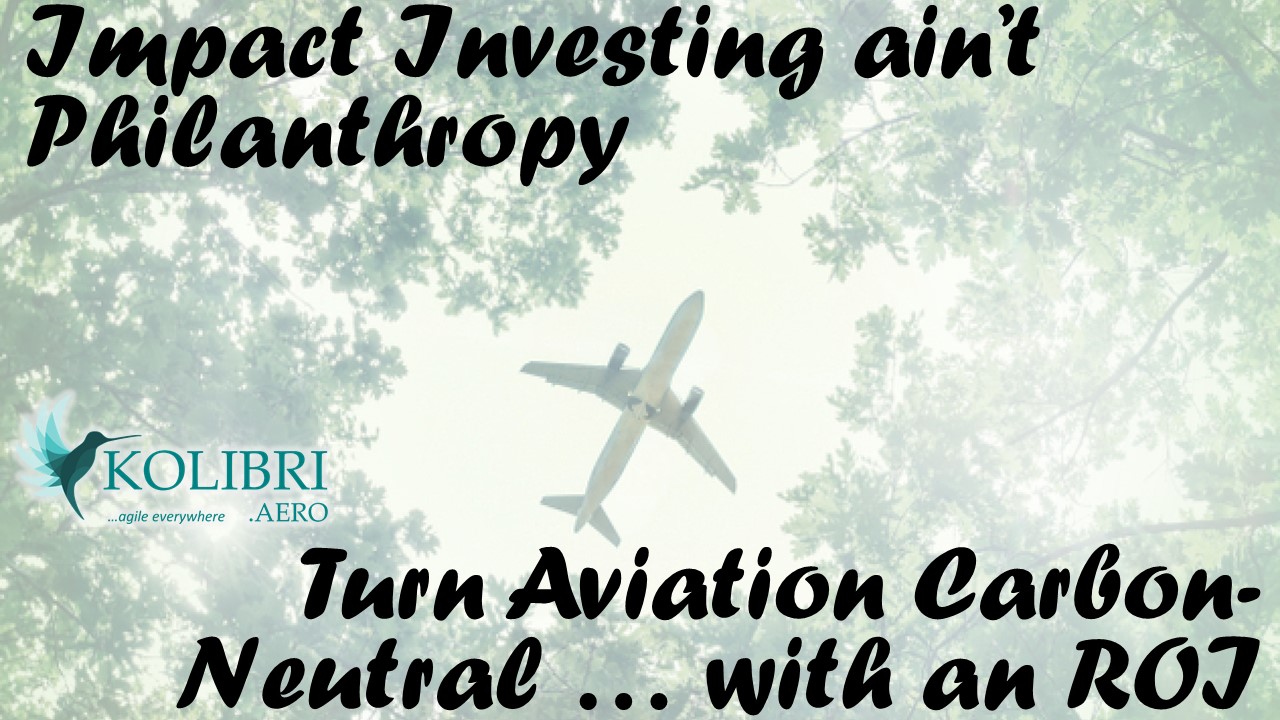 Though also notable, there is a bad misinterpretation that impact investment would mean low ROI. I think our business concept for Kolibri is looking at very competitive ROI at a residual risk below other investments. But it is so much easier to accuse impact investment to justify one owns look the other direction, right?
Impact Investment ain't Philanthropy.
Invest into the future and benefit from it!
And as real impact investment gains support and more and more investors look at their investment portfolio and clear out the dirt, suddenly your "max-ROI"-investment in crude oil, guns or other "bad investments" will turn foul on you. Investment into the main investor in "bad business", namely Black Rock will backfire on your own reputation. So Black Rock will likely recognize the headwinds and start divesting too? Not to be caught in the fray.
Funds, Indices, Shares or what?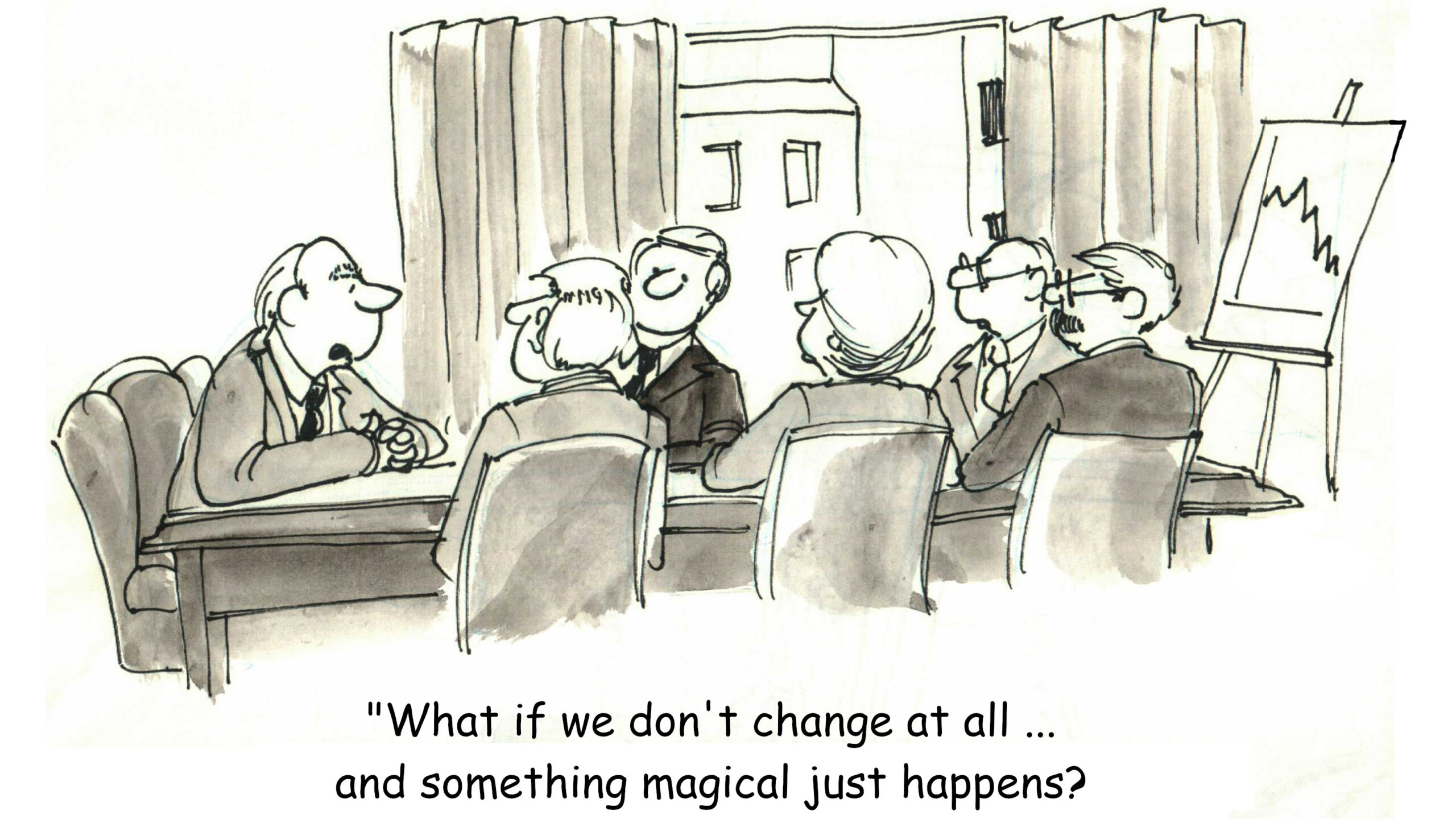 Well, it's always easy to invest into existing business. Buying in on indices or major shares, you don't need to understand anything beyond their "performance" and "marketing message". If they wash well enough, they might appear shining green or white, right?
As if we did not learn the very recent lessons from German Property Group, Wirecard? On a report that week, a Shortseller mentioned that the higher the interests and dividends, the likelier they are on a rush against the wall. So they look at those stocks first. As do greedy investors…
My very personal experience includes working for a company that became one of the "New Market winners" when they entered the stock market. Happened, after a short flash in the pan, they ended up a penny stock.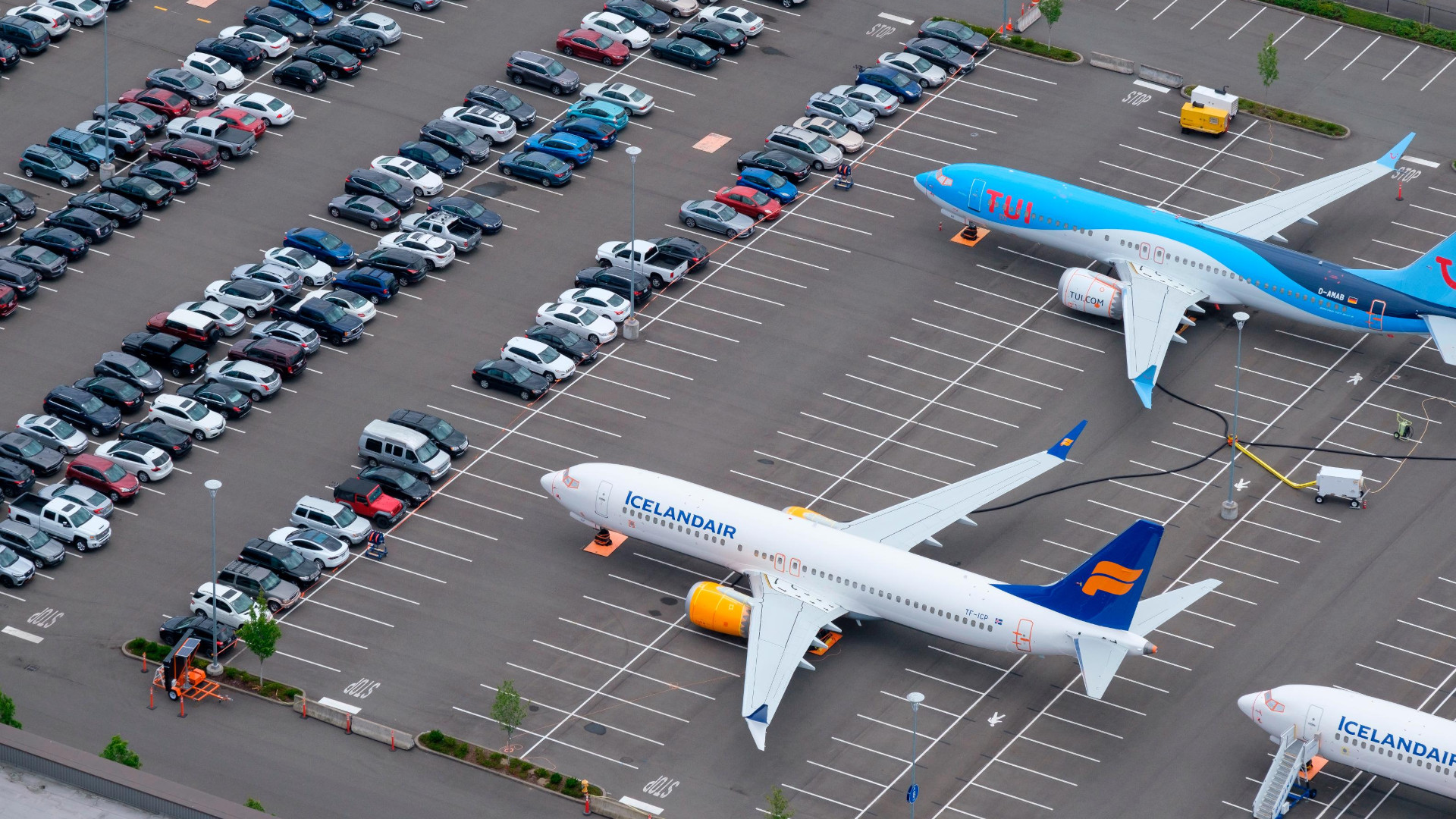 The "typical" aviation investment is aircraft funds. Whereas KPMG valued them at an average 4% return in 2019, look at all those assets now. Liabilities in most cases, because they had and have no USP. And even back in 2019, the big aircraft lessors being well established with the airlines made good returns, but many funds also underperformed or failed completely.
Shareholder value got a very bad reputation, didn't it? As if all shareholders would believe in Max-ROI? How about some long-term benefits, how about impact, sustainability and a return that is above the inflation rate and what your bank pays? But that is to my experience and observations the normal "manager type" our world suffers from. Maximizing the own short-term remuneration and bonuses, leaving a wreck behind. Back to IT-investments?
… or what?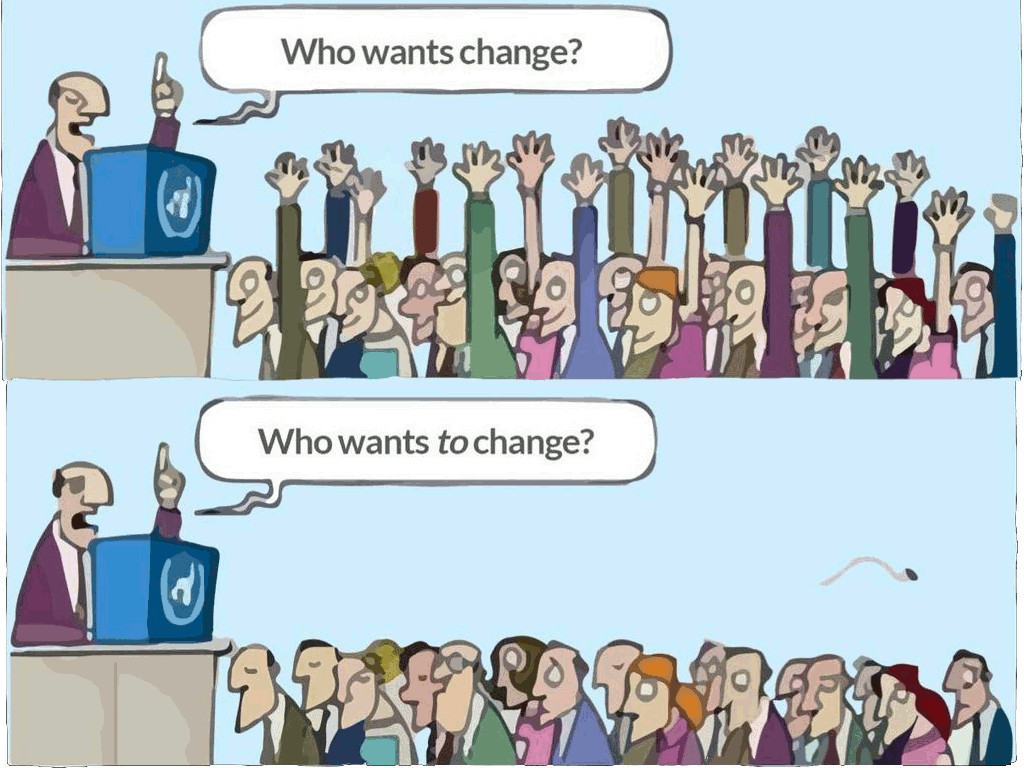 Especially thinking about impact investment, we need long-term thinking. Something bank managers, institutional investors and venture capitalists fail to provide. We need people thinking in decades, in generations. We need Family Offices, private investors. And we need company managers, entrepreneurs, founders thinking not in three years at max ROI, but in 10 years and a real ROI, including but beyond monetary. Maybe at a much better ROI than those straw-fire-startups burn up?
What Impact Do You Target?
What's the "Impact" you want to make? Is Tesla truly the future? Or is it more hydrogen? How about impact on poverty? Why not investing in "developing countries", poor countries? Giving them the infrastructure and tools to develop themselves. Another German history lesson. While the leading industry nations cannibalized German technology, machines, entire factories, it left a void in it's wake. A void that was filled with the help of the Marshall Plan leading Germany into the Wirtschaftswunder.
The investments back in those days did not target the surviving companies, but enabled startups. The remains of those funds are known as KfW, Germany's Bank for Reconstruction.
Impact vs. Whitewashing
My final topic today is to take a look at the United Nations Sustainable Development Goals or U.N. SDGs.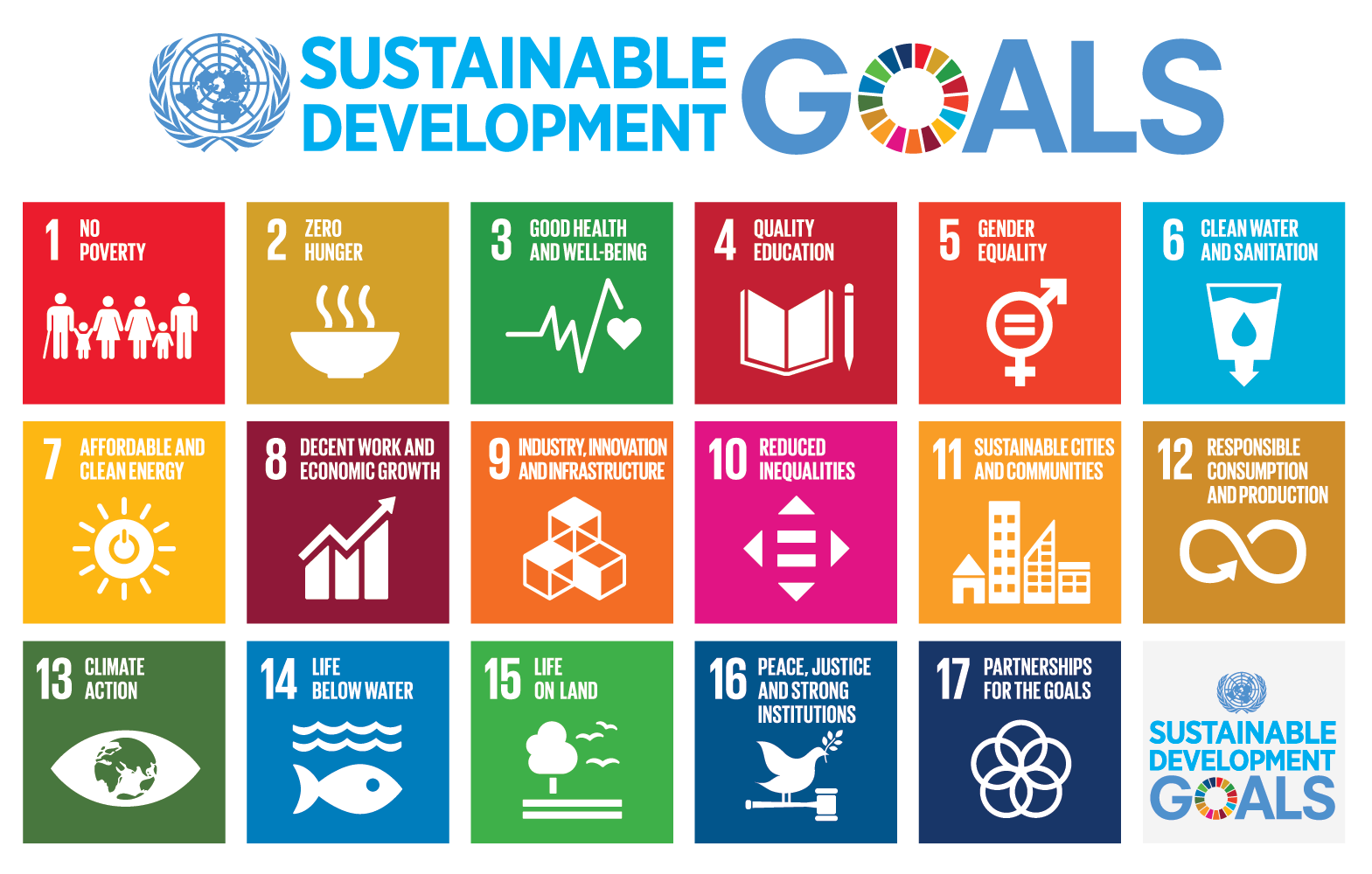 Good Health & Wellbeing = biotech, right? Every biotech something claims to be SDG3, even the pharma-giants o chem-giant BASF.
Or Decent work and economic growth also used a lot for good argument to be "sustainable". The Real Estate industry talks a lot about their focus on 9 and 11. Those are just the ones I see a lot "abused". But also tech companies claiming sustainable under 3 ,4, 5 and 10… Be careful if someone tells you they'd be "sustainable" under consideration of the SDGs.
I like the approach of some family offices very much, that they qualify the real impact. Over time, what is the change. Targets, Milestones. And understanding that real change takes real efforts.
Food for Thought
Comments welcome!
0
- click to show Jürgen you liked the post