Academic – Epidemic
During my vacation, I just had another discussion with a "senior manager", showing how little many of these highly paid people understand about the value of networking. It often seems to me that this is nothing they ever learned during their university times…?
People buy from people, not technologies.
No matter, how good your product is, no-one will believe it, if they don't believe they "know" it.
The Wrong Questions
I had some questions and statements (Q) repeadetly the last years and think it might be wise to share my answers (A). If that stuff is voiced that often, you may be faced with the same smart people…
Q: "It's very much about being at the right point at the right time."
A: And the right point is the mind of the someone who thinks about buying. If you're not in the mind, you won't come to mind and you won't sell.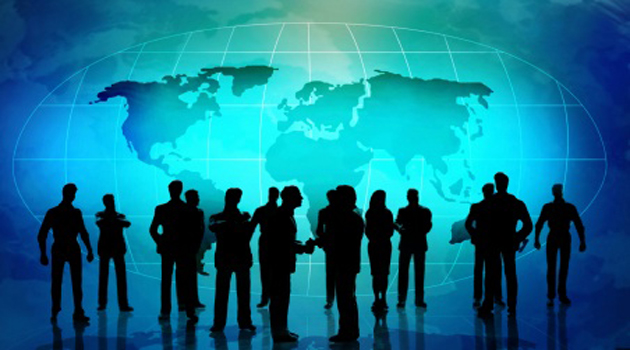 Q: "Why should I go to this event, I can talk to them on the phone."
A: Do you know, how many phone calls that someone gets every week, from people trying to enter their mind and memory? At these events, like-minded people meet. With the possibility to speak longer with people and face to face, trust can be established. An important factor for purchasing decisions.
Q: "Why should I be active on LinkedIn?"
A: For one, there are a lot more people on LinkedIn than you likely ever meet on trade shows. If these people are allowed to attend trade shows in the first place…
Q: "Then why should I attend trade shows – the people I seek to meet are not there!"
A: Because even if they themselves are not there. Their colleagues who are allowed to go will tell them. If you leave some impression.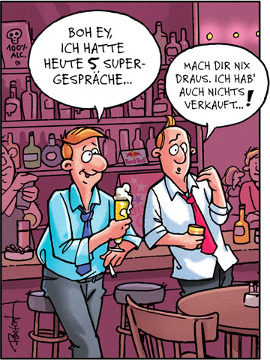 Q: "Is it better to have a stand or not?"
A: That depends. Can you attract people to your stand (it does require a catchy stand design and/or an established brand awareness). In my experience and for conferences with exhibition: If you are alone, skip the stand. Meet your audience face to face. Conferences are not about sitting around, but to meet and to talk to people! What I recommend though is that you use accessories that show who you are. Be it a cap, a polo-shirt (or light jacket) with logo or a catch phrase that attracts the right people to you, be it a bag – under all those black-ties, you got to stick out showing "Here I am!"
Interesting side note: I know a lot of sales & marketing people being too proud to "show off". If you don't want to show off (your product) you maybe got the wrong attitude for the job…
Q: Hey, I got invited for a speaker slot. I can present my product there.
A: If you can have a speaker slot, don't use it to sell your product, but make sure you provide lasting value for your audience. If they are interested, they'll be interested in your product. And after you paid for some of such slots, the organizers (if they're worth their money) find you valuable and maybe even worth-while to invite or even pay you next time…
These opinions of managers do remind me too much of an old quote: "If you don't try, you cannot win".
But have they understood that they sell to people having their own priorities, agendas and opinions?
On the other side, I've received a nice graphic on LinkedIn lately I'd like to share with you. I like the first point very much, as I believe that you simply got to become a trusted partner to succeed, which is why it's vital to build up "trusted networks".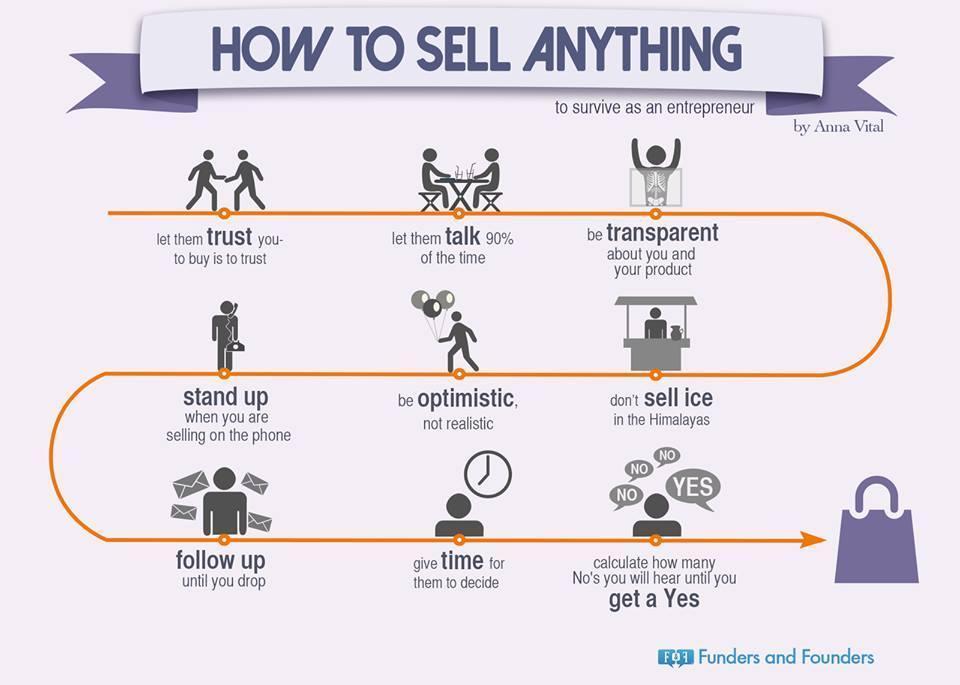 Food for Thought
Comments welcome
0
- click to show Jürgen you liked the post