While we have sound plans to establish a profitable airline, planning to operate carbon-neutral, #greenwashing and lip-services dominate responses we get from "impact" investors, why our model cannot be supported. And the same what is heard and seen from politicians and public funds.
Now the last weeks, the "green strategy" is a big issue in the media. European Investment Bank claiming to be be the "Sustainability Bank". The Mission Hydrogen 24 hour workshop. The reality check on to German Rail's sustainability. Or the facts about the "global recycling champion" Germany. So let me summarize these reports. And call for any serious investors interested to make a true impact, to talk to us and learn the big impact we want to make. While establishing a profitable, future-focused airline.
German Rail & 100% Sustainable Power?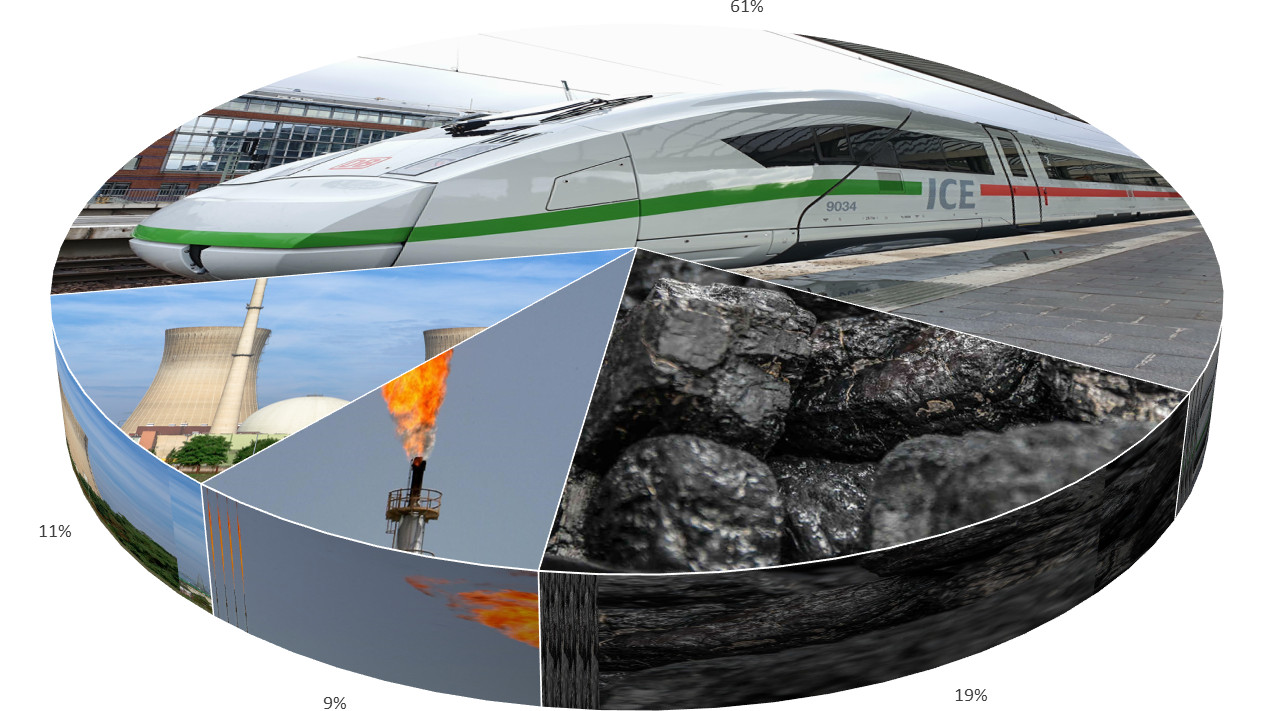 Don't get me wrong, this ain't new. There have been reports about this ever since they started their fake promotion about 100% sustainable power. But just this week, German Television did a reality check, with rather devastating results!
Just 61% of German Rail's power comes from renewable energy. 28% come from coal and natural gas, where German Rail partly owns the latest built coal power plant, built against all public opposition. German Rail has long-year delivery contracts for atomic power. And only 33 out of 5,679 railway stations are powered from renewable energies, 0.5 % … And by 2038 (17 years from now) German Rail wants to increase the use of sustainable power to only 80%, targeting 100% only for 2050.
That excludes non-rail business, like Schenker logistics, clearly focusing on Dieseltrucks. Where container transport by rail is more than six times more ecofriendly than trucks. But having demolished most of the industrial accesses, parallel tracks and being delayed on major infrastructure projects like the European North-South rail axis, now backfires and cannot be remedied quickly.
ECB & EIB – the Sustainability Banks?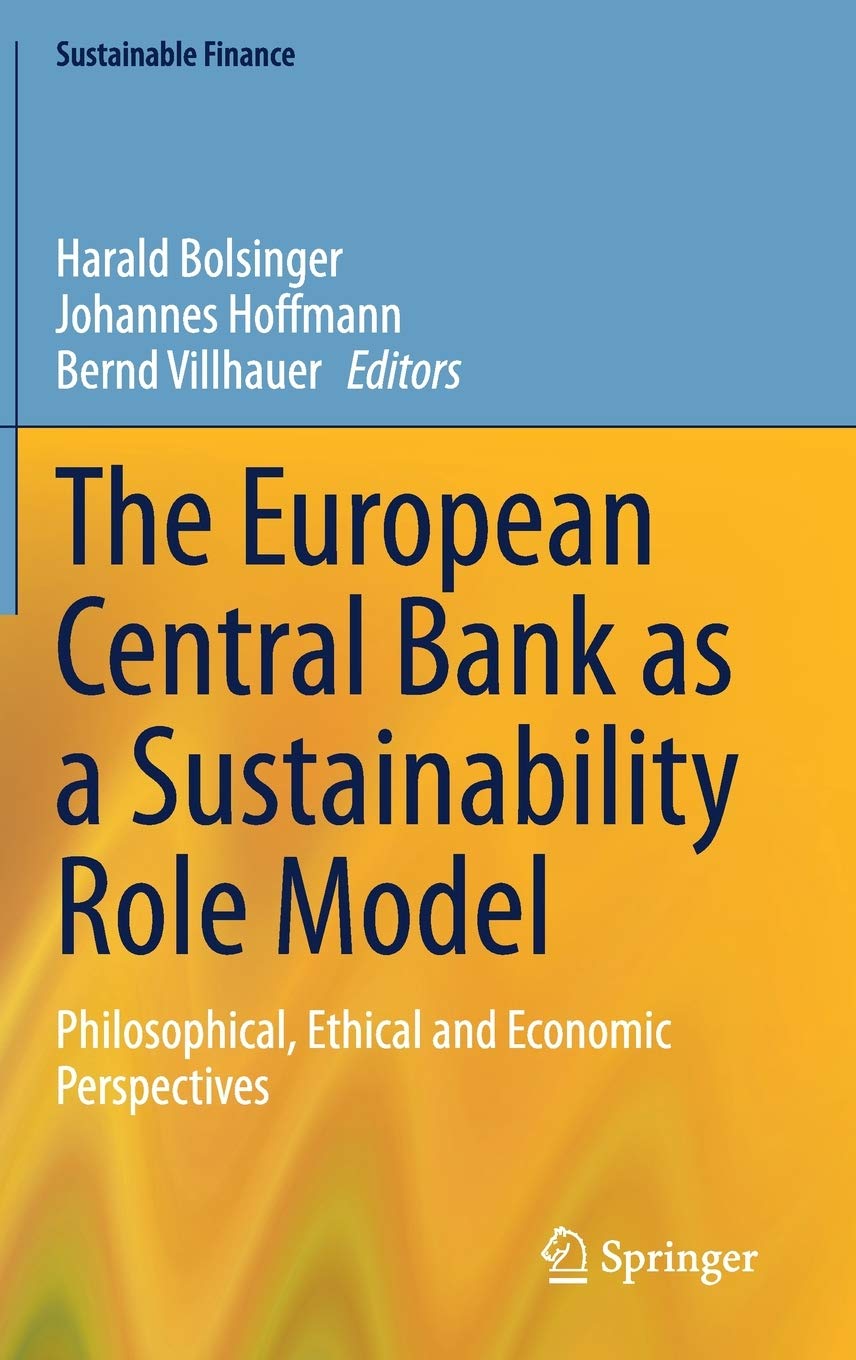 While we talk with impact investors, we do also understand the European Central and the European Investment Bank claiming to be "Sustainability Banks". Talking with the very same investors being "naturally" and clearly interested in sustainable projects, we asked why they would not make use of those funds to complement an investment into Kolibri or other impact investments.
The feedback I get is painfully clear. They do not work with the EIB (or other government fund programs) for the bureaucratic process required to be "approved" as an investor. I have multiple statements that attempts to support the investment failed. Assumption being voiced that those funds again go to the big players and into unqualified "green projects" that are mostly about #greenwashing. That includes a claim that EIB funds new aircraft for the dinosaurs – without any requirement(s) for those aircraft or the airline to develop a strategy to reduce their carbon footprint.
I also reached out to one of the experts in my network, working closely with those banks and doing studies on their sustainability, asking why venture capital or family offices don't work closer with such government funds: "But what you report from your interactions with public investors is true even for smaller and less ambitious projects and companies in that public VC funds invest only if the concept is validated by the market in one way or the other. In other words, only if someone else confirmed the commercial success elsewhere.
Germany – the Global Recycling Champion?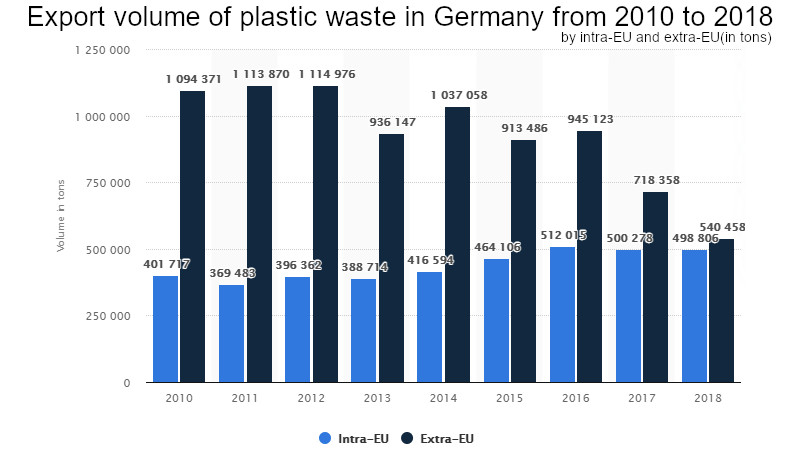 Reality is, that Germany is the global champion in export of plastic trash. Instead of a strict recycling regime, 80% of the trash collected from the recycling bins is being either exported or burned.
The drop in export results directly from China having stopped and banned the import of plastic trash. So now, the pictures of plastic from African countries dominate the respective stories about German "recycling".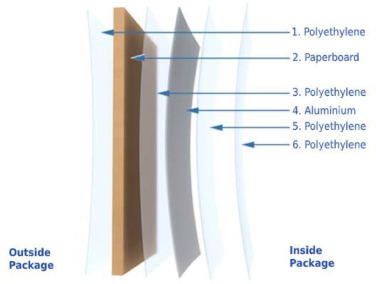 At the same time, the plastics industry is booming. And instead of developing sustainable packaging, the trend is clearly towards mixed-use, the known bad example being "Tetra Pak®"; a packaging made of several layers that make it exceptionally difficult to recycle. And the few recycling factories being more for greenwashing than for recycling any meaningful amounts of that stuff.
There was also a report on TV this week on Coca Cola and how they changed from the recycling glass bottles to throw-away plastic bottles and Aluminum cans. Which was the beginning of the end of bottle recycling. And how their lobbyists ever since fight any recycling requirements…
Aviation – the Scapegoat?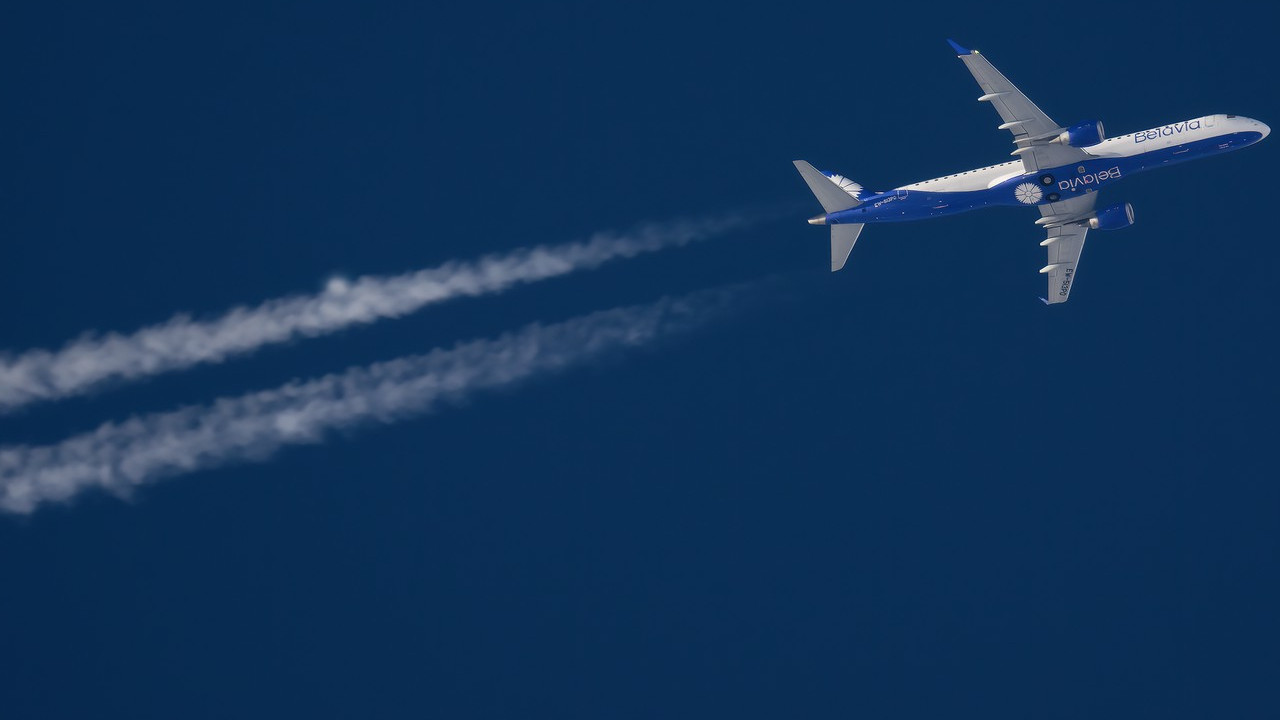 Now, how about "my industry", how about aviation? And why is it constantly the scapegoat and blamed for global warming?
When the aviation industry claims that it's only responsible for 2% of the CO2-emissions, this is also green-washing. As aircraft engines exhaust contains also other "greenhouse emissions" and many if not most not on ground level, but at high altitude. The "contrails" being a visual reflection that people "know" and can identify. Experts in a report about Airbus this week accounted the greenhouse emissions by aviation to 6%. Not much, but only 4% of the world population flies. And 6% is substantial.
So aside our plans to use Kolibri.aero to establish the infrastructure and certify the use of 100% synkerosene to fly carbon-neutral, we also understand the issue of the aircraft-engine exhaust will require further research into greenhouse-effects of the remaining exhaust. But which only can start, once we start flying "carbon-neutral"! And yesterday, I was challenged twice about synfuel and that we'd need to look at use of battery, hydrogen and fuel cells. Referring to a very academic presentation by Prof. Dr.-Ing. Josef Kallo of the German Aerospace Agency (DLR) about How to fly with Hydrogen, addressing fuel cells at the European Hydrogen Workshop by Mission Hydrogen GmbH (Ltd.).
See my recent blog about The Road to Environmentally Friendly Flying…
Electric, Fuel Cells and other Aviation #greenwashing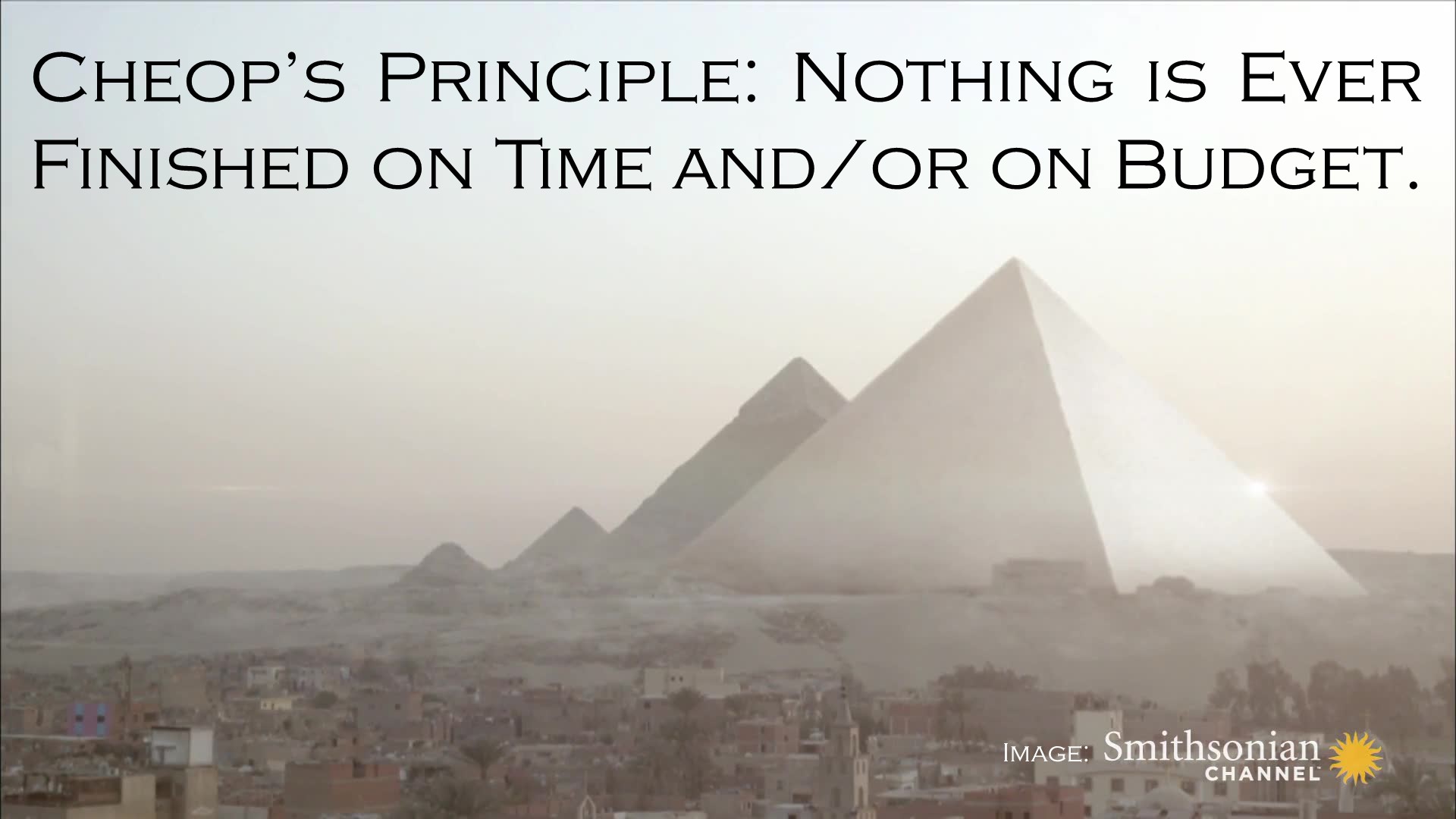 Speaking with one of those "challengers", he argued that in 10 years the first regional aircraft will fly on fuel-cells. Being "project planning", I'd say better add 50% reserve to that, then we talk about 15 years. And personally I still doubt that time line. And then we will have aircraft with 10, 20 or maybe 30 seats. With a range of one to two hours. When we will have aircraft that transports 100 seat? Or ones that can replace the 150-250 seats used by the low cost airlines? When do we expect aircraft to transport 250-350 passengers long haul? Hiding behind "Research"? Science Fiction…
The argument given was that batteries and fuel cells will become more effective. Which I file under "cognitive dissonance". What excess in miniaturization results in, we all experienced with the B787 batteries self-enflaming. Or the Samsung Galaxy Note 7 "fiasco". Trying to mend the rules of physics is a true challenge. And that does not even cover the devastating ecological footprint not only of Lithium. If you want to wait for that to be resolved, we talk about "dirty" kerosene still in use in 20, 30 years!
And if that happens, our industry is worth being used as a scapegoat…
Change Happens – NOW!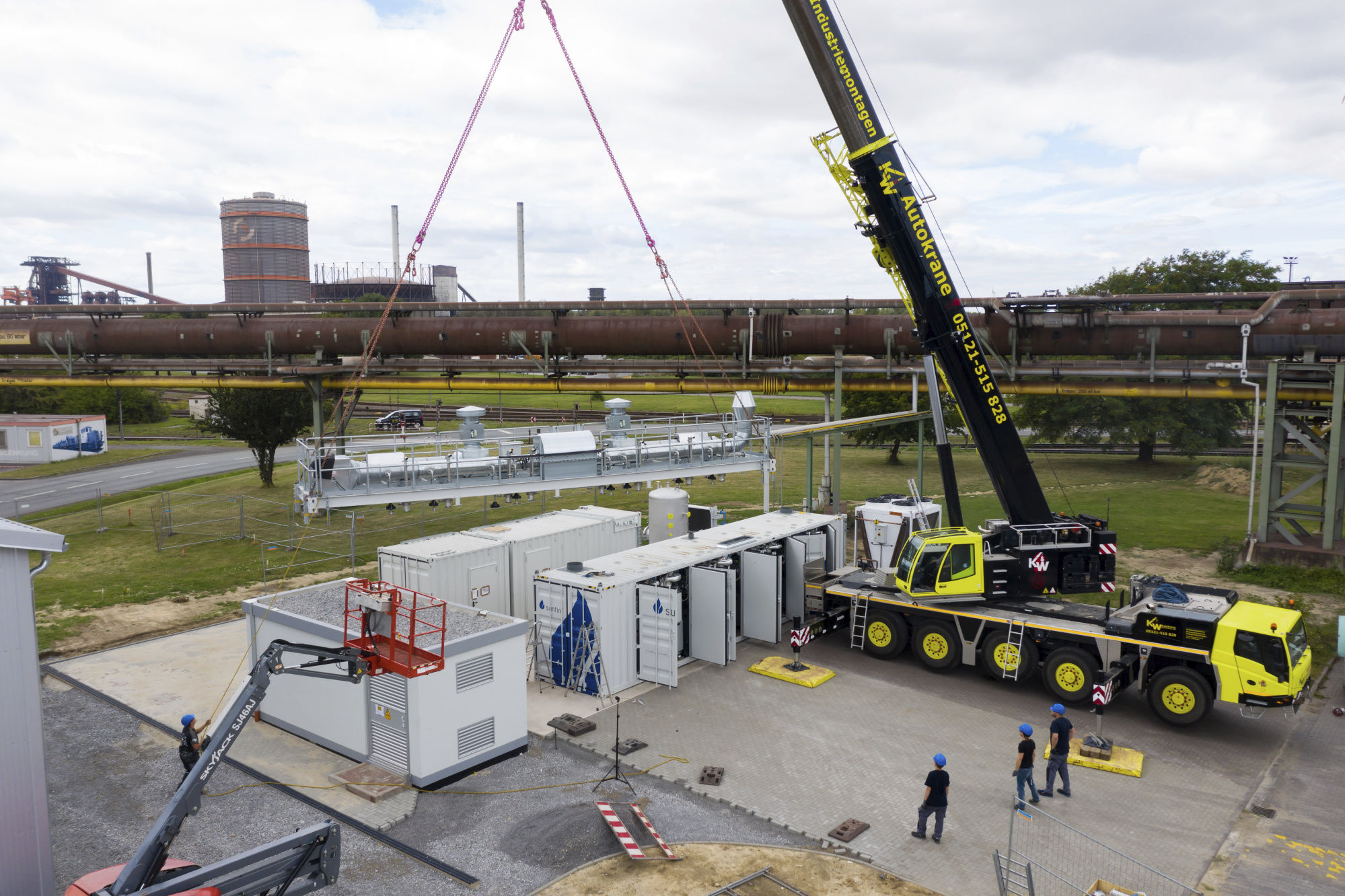 Sustainable economy and global warming are big issues today, but most that we see is lip services. An investor group just recently checked impact investments for the "real" impact. They reported about 4% of all investments having a quantifiable impact or quantifiable targets. Only 4%. All others to be #greenwashing. On the "impact programs" of the 100 largest companies in Europe they found not a single one having more than one or two percent impact to global warming. Most of them being "lighthouse projects" that are being developed inside a "bubble" that does not immediately impact the company. Mostly lip-services addressing already established programs, but don't really change the existing processes.
One example mentioned being the Electrolyzer delivered to Salzgitter AG for delivering hydrogen to be used in their steel-making process. A "research project", largely funded by the hydrogen program. And now, being still in research phase, trialing it's impact, it's a "lighthouse project"?
The Fight against #Greenwashing + Lip-Services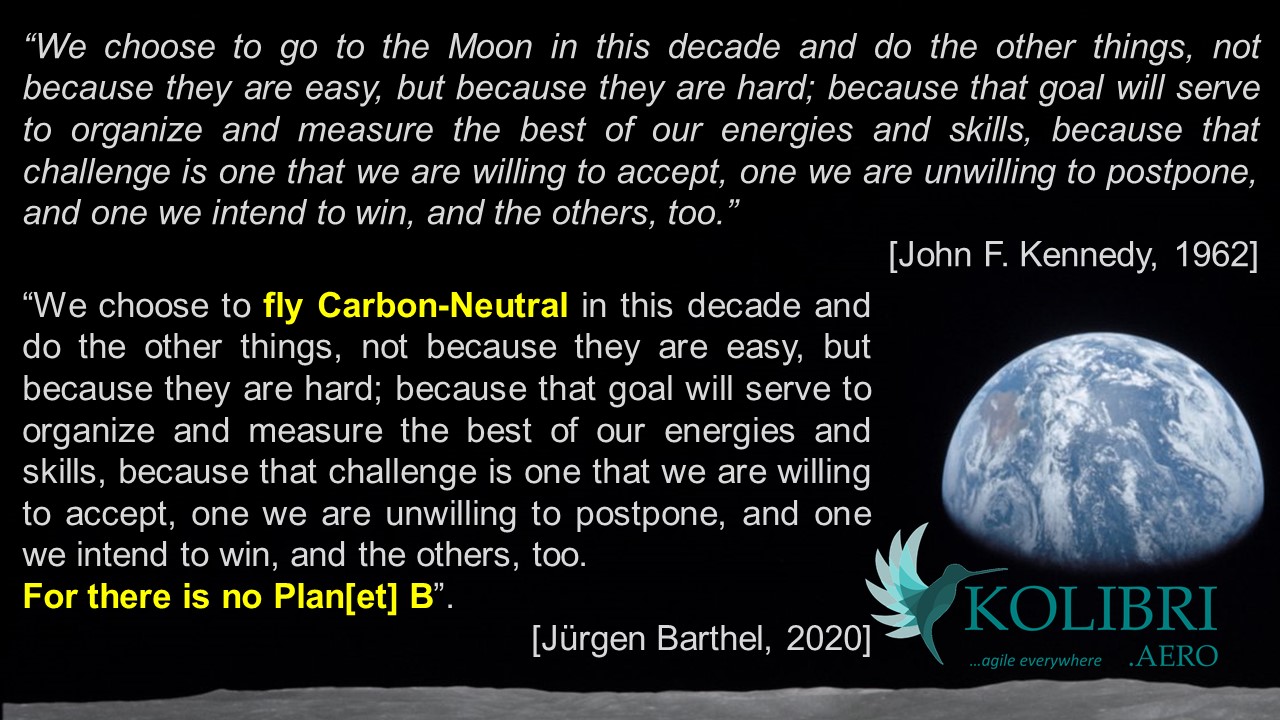 And today I was confronted again with "avoid flying" as the first and foremost advise to stop global warming. While people will fly, economy needs flight connections as well. What we need is to stop blaming aviation, but start changing it. And the governments and public funds won't help, so we need bold investors with a mission to help establishing the environment that allows us to work together on the common goal. Clean flying. Flying without remorse. Flying with a conscious mind.
We choose to fly Carbon-Neutral in this decade. And do the other things. Not because they are fashionable and easy, but because they must be done. But we can't do it alone, we need investors that are interested in more than greenwashing their conscience, but the ones supporting the real thing. Investors that understand this is a big deal, it's disruptive, it's a journey. A journey that needs conviction, founders with the commitment and vision to make it happen…
Food for Thought
Investors welcome!
0
- click to show Jürgen you liked the post