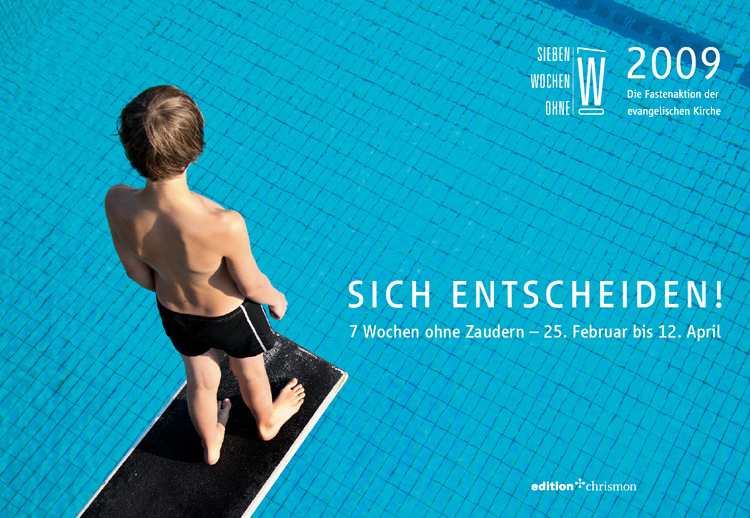 It is Easter Sunday. In the wake of my father's death (the reason there was no Food For Thought last week) I think about god. Yulia does an Easter Lent. So I thought about the Easter Lent in Germany and learned only today about "Seven Weeks Without", an Easter Lent initiative in the German churches. This year's motto: "Decide! Seven Weeks Without Hesitation" (Sich entscheiden! Sieben Wochen ohne zaudern).
The publications that came along with the motto say we make the mistake to play it safe. Don't we all know (what we call) the "egg-dance" of politicians, trying to avoid any decisions? I have too much of those to my liking lately.
Then I received a post by my dear friend Sapphire, called Orphan. About the missing link to god. I do not believe much in church. But in the wake of my father's death, I also learned the truth of the saying "You can remove a boy from the bible belt, but you cannot remove the bible belt from the boy" (the bible belt is a very religious region in the U.S. midwest). I was raised Lutheran (a Christian variant). I believe in god. And as Yulia just said to me yesterday: It is the believe in god that unites us.
But this Food For Thought is a business blog, so why do I address something like god, the lent or Orphan here? Because of the lent motto. Decide! We cannot always play it safe. This is another recurring topic, in this case on LinkedIn Q&A: What makes a good manager. A good manager decided, stands to his decision (doesn't blame others on failure) and reverses it quickly if needed. Not like a politician without an own opinion. First it is the decision. And no, not the decision not to decide 😉
Especially in the crisis, the decision makers are likely to survive. They move.
Or to quote Barrack Obama: Change! Yes – We CAN !!!
Food For Thought. Thanks for sharing yours!
1
- click to show Jürgen you liked the post