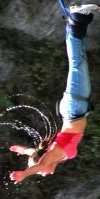 I am recently faced with the question, if I shall take up a very challenging position, asking the best of my abilities, thus meaning fun, but at high risk of a temporary assignment … Or play it save and go for a job I can do good, but which does not pose any real challenge but routine work – in return for a safe job?
And many friends face a similar question. Do they leave their "secure" job for another one around the corner they don't know how "secure" it truly is? Monetary thoughts, very high valued by the bosses are of minor interest to most. It must be decently paid. No question about it. But if that is the case. Would you trade safety for some risky challenge? Sure – this answer did change quite a bit since the financial market turned the entire world into a madhouse.
So we all have to think about this question and give it serious consideration. But it can not be generally answered. Any one's risk assessment is different. It depends on obligations to others, family, credit for a house, etc., etc..
If we have a challenging, well paid job and loose it? It is sad to see friends going broke, their spouses leaving them when times are no longer luxurious. So what values are important in life? At the same time, there are many companies speaking not of personell, staff or "our people", but of human resources… What messages do we get from that?
Reconsider your values…
Food For Thought
0
- click to show Jürgen you liked the post