Three news this week I find noteworthy about easyJet.
Where I have learned early to have the greatest respect for Dame Carolyn McCall, she now resigned at easyJet to join the TV industry. And the same time, easyJet is in the process to acquire an Austrian AOC (air operators certificate) to prepare for a post-Brexit world. Third, they celebrated their delivery of the first A320neo (new engine option) and converted A320-orders to A321.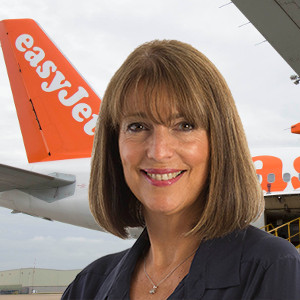 While the first may be a career move for Dame Carolyn McCall (and that is all that counts from any employee view), it is a tragic loss to our industry. And I might be wrong, but I believe this will be similar to the loss of Steve Jobs at Apple.
Carolyn McCall has understood that "service" and "behavior" are not that expensive but important difference-makers. easyJet customers' loyalty is substantially stronger than Ryanair's or British Airways'. How you treat your customer not only if legally required (Ryanair continually failing even on that) makes a difference. I learned back in my early days with American, that friendliness and a smile are the spoonful of sugar the traveler needs. And they understand things can go wrong, even more than our industry pretends.
Her successor is rumored to be likely easyJet Christine Browne, the management remains to keep it's female touch. But does she understand, live and provide the role model for "her" airline about "customer focus"? Or will she fall into the trap American did in the days when Bob Crandall left, to focus on money, money, money?
easyJet on the Move?
About the process to obtain an Austrian AOC, there are several pitfalls and hurdles I see in that decision.
Austria is not truly a "low cost country". Which is similar true for the U.K. or Switzerland, but where the U.K. enjoys two strong source and destination market with London, Switzerland enjoys a very strong economy. And they are rather flexible on taxes (Wizzair is in Geneva for good reason).
If and how the Brexit impacts the U.K. market remains to be seen. But Austria and Vienna do not have that strong a market. And while Basel has been underserved by classic airlines, at Vienna easyJet will face potentially fierce competition from Lufthansa group, whereas they might hope to benefit from the retreat of Niki from the Vienna scheduled flights market.
The flying part though is not the issue of my concerns, I'm sure easyJet will do okay on that end. But establishing a "sub-HQ" in town comes with a price tag. And there are other European cities that might have been cheaper and bureaucratically more efficient than Austria.
A320/321neo. A Change-Maker?
The third news that "hit the media" was about the delivery of the latest Airbus A320neo, as well that they convert A320-orders to A321s. Such they upscale the fleet to the 250-seat A321s, I have concerns.
While the A320neo comes with 12% better performance, by 2022, when all orders are delivered, the aircraft will reflect about 1/3rd of the easyJet fleet. And as Airbus changed the structure, the "old" ones can not simply be "upgraded". So on a fleet level, that will account for a 4% benefit. Or to give a common example: For a 100 Euro ticket, you then might pay 96 Euro. Though I happen to believe that this will be simply accumulated to improve the ROI of the airline.
Further, on the "work horse" A320, it's only 25%, the others are A321neo's. Whereas I believe the A321 will simply cannibalize routes that are currently operated by A320s. Whereas, will larger aircraft and the "better economics" per seat equal the lower possible frequency? And frequency is something business travelers like. Is the cost advantage that high that it will exceed the advantages of a higher frequency? I have my doubts.
Quo Vadis easyJet?
How will those two decisions impact on easyJet?
Get me right. I love easyJet for many years. Their inflight product is as good as their overall friendliness and efficiencies. They focus on business case but keep customer-centric in mind. But as Ryanair, they try to sell aircraft they ordered, finding it hard to place the large aircraft in Europe. Now they face a Brexit and size-up the aircraft, cannibalizing their existing routes at that.
For Carolyn McCall it is a good time to leave the company at the peak of "her" success. The successor will phase some repercussions out of his/her control, as well as some tough decisions to make.
Food for Thought!
Comments welcome
1
- click to show Jürgen you liked the post