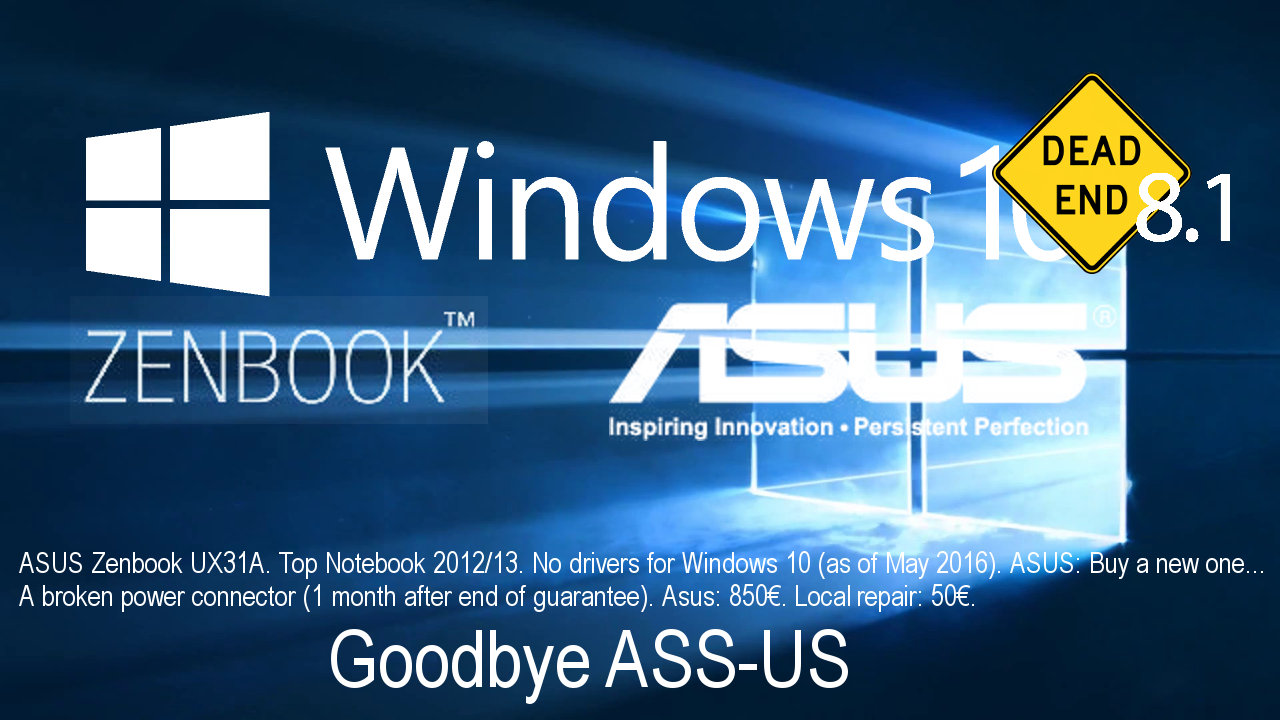 For many years we used Asus products, being very often the best products in tests and doing their job.
Starting with the first Netbook (eeePC 1002H, 2008), a home WiFi-router (RT-N56U, 2010) or more recently a "Zenbook" UK31A (2012), winner of many awards by the computer press. Now we got that one just back in winter 2012/13 when we moved to Braunschweig. Just two years later, ASUS decided not to support the upgrade to Windows 10. Drivers are missing and you are warned to not upgrade! That meets the experience in winter 2013/14, when within four weeks after the end of the one-year warranty the jack for the power connector broke… Sent in to ASUS, they offered a replacement of the motherboard "and other connectors" to repair it at a cost of 850 € (new price was 1.100 €). We had a friend take it to Moscow and take it there to a large, well-reputed repair shop. It was less than 50 € to ship it to our friends and back and the repair. And we received the notice, this now should hold, it would be a known "weak point" of the Zenbooks…
Compared to my Dell XPS-12, that got replaced half a year ago after being stolen with the same device and extremely satisfying on-site-support that ASUS didn't even offer as a paid upgrade…
The WiFi Router also needed replacement by a new one, not because it was slow (the new ones are faster), but mostly because of disruptions. The newer model went back to Amazon having the same problems, now a Linksys OpenWRT-router runs the show.
But especially with this bargain offer for the repair of the Zenbook I must say:
Goodbye ASUS
2
- click to show Jürgen you liked the post